Valley High School is a small public high school located in beautiful Southern Utah along scenic Highway 89. The school serves students from the rural towns of Orderville, Glendale, Alton, Duck Creek, Mount Carmel, and surrounding areas. 
VHS has an impressive number of graduates who have been accepted in EVERY in-state college and university in Utah and other out-of-state institutions as well. VHS has graduates accepted to or attending Brigham Young University, Dixie State University, LDS Business College, Salt Lake Community College, Snow College, Southern Utah University, University of Utah, Utah State University, Utah Valley University, Weber State University, Westminster College, Southwest Applied Technology College, Evans Hairstyling College and Dixie Applied Technology College.
Location
150 N Center Street, Orderville UT
Information
Type- Public High School
Classification- 1A, Region 20
Motto- Education Today, Success Tomorrow
School District- Kane County School District
Principal- Don Heath
Faculty- 20-25
Grades- 7-12
Enrollment- 140-155
School Colors- Orange and Black
Mascot- Buffalo
Contact 
Phone- (435) 648-2278
Fax- (435) 648-2366
Email- heathd@kane.k12.ut.us
Vision and Mission Statement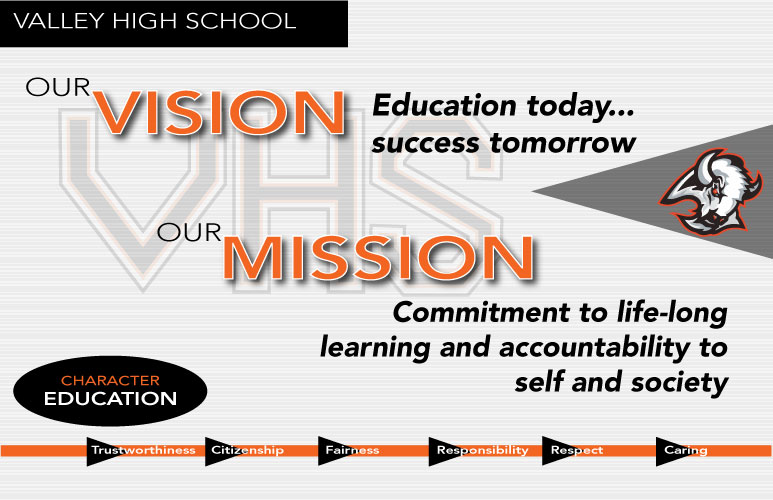 The following historical information about Valley High School's early years are excerpts from a booklet titled "Valley Through the Years, 1910-1941". It was created by the Valley High School Class of 1987. To view the original booklet in it's entirety, click here.